07/17/2018 06:13 PM
OnePlus 6 Gains Camera Tweaks, Google Lens via Update
OnePlus has begun distributing OxygenOS 5.1.9 to the OnePlus 6 phone. The update improves the camera, with better image quality, beauty mode for selfie portraits, and Google Lens for image-based search. The update adds group MMS support to the messaging app. Performance tweaks include WiFi optimization and Bluetooth car connection stability upgrades, as well as fixes for certain accidental touches. Last, the new build of OxygenOS updates the security patch to July. OnePlus says the system update is rolling out slowly over the next few days.
07/17/2018 01:31 PM
Google Hopes Visual Snapshot Will Boost Google Assistant's Appeal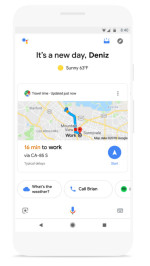 Google today announced an update to Google Assistant that will see the service displaying a snapshot of users' agendas. The visual overview can be accessed by a new button that appears in the Google Assistant app for Android. On iOS devices, the new snapshot tool will appear automatically. Google says the snapshot will focus on things such as travel times for meetings and appointments, though it will also offer information on agenda items, reminders, reservations, stock portfolios, bills, packages, and suggested actions. Google plans to add more useful features to snapshot over time, such as notes and lists, parking reminders, and podcast recommendations. Google Assistant may also send notifications to ensure people don't miss future events. Google Assistant with the new visual snapshot feature is rolling out to Android and iOS devices this week.
07/17/2018 12:35 PM
Verizon Ceases Activating 3G Phones On Its CDMA Network
Verizon Wireless will no longer activate 3G CDMA devices on its network as it moves towards sunsetting the legacy service. "For several years we've been publicly saying that our 3G CDMA network will remain available through the end of 2019. Virtually all traffic on our network is on our 4G LTE network," said the company in a statement provided to Droid Life. "To facilitate a smooth transition to 4G LTE capable products and services, we are no longer allowing devices that are not 4G LTE capable to be activated on our network." Verizon has previously said it will shut down its 3G network by December 31, 2019. It is common for carriers to discontinue older or outdated networks and re-farm the spectrum for newer technology. Verizon says it will launch 5G before the end of the year.
07/17/2018 12:00 PM
Review: Motorola Moto Z3 Play
Motorola's third-generation Z Play brings the series up to speed with its competition. This mid-range Android phone switches to a 2:1 screen shape and offers a fingerprint reader and face unlock for security. Pair these with Motorola's wide variety of Moto Mod accessories and a clean build of Android, and the Z3 Play is a flexible option for those who like unlocked phones. Here is Phone Scoop's in-depth review.
07/17/2018 10:07 AM
GOP Rep Makes Move to Resuscitate Net Neutrality
Colorado Representative Mike Coffman, a Republican, is the first member of the GOP to take a real stand for net neutrality. Today Coffman signed a discharge petition in an attempt to force a vote on the Congressional Review Act resolution with the aim of reversing FCC Chairman Ajit Pai's repeal of net neutrality regulations. Coffman is also introducing his own net neutrality legislation, though it has virtually no chance of passing in the Senate. The FCC's repeal of the Obama-era net neutrality rules went into effect June 11. Chairman Pai believes the industry will be able to regulate itself. Others don't see it that way.
07/17/2018 09:32 AM
T-Mobile Offers World Travelers More Options
T-Mobile today updated its Simple Global plan, expanding the number of countries in which customers can access service. T-Mobile customers have long been able to use unlimited (2G) data and texting in more than 140 countries. Beginning July 22, that number swells to more than 210 countries. The company is also making high-speed data available in those same countries for a low daily rate. Beginning August 1, T-Mobile customers can pay $5 per day for up to 512 MB of LTE data and unlimited calling between all Simple Global countries. Simple Global is included in all T-Mobile One plans.
07/17/2018 08:12 AM
Samsung's 8 Gb LPDDR5 DRAM Module Targets Mobile Artificial Intelligence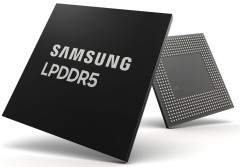 Samsung today announced what it says is the first 10nm 8 Gb LPDDR5 DRAM module for mobile devices. The new memory chip can push data at 6,400 Mbps, or 50% faster than current chips. The DRAM module can operate in two bandwidths to aid in compatibility with circuit designs. The module makes its gains by doubling the number of memory bank subdivisions from eight to 16, which lets it run faster while also using 30% less power. Samsung claims the 10nm 8 Gb LPDDR5 DRAM module will assist with mobile artificial intelligence and 5G applications. The company has finalized testing of the chip and will begin manufacturing it in its home market of Korea for devices as needed.
07/16/2018 03:34 PM
AT&T Prepaid Now Selling the LG Phoenix Plus
AT&T has kicked off sales of the LG Phoenix Plus, a variant of the K10 announced earlier this year. The Phoenix Plus has a U-shaped metal frame with a 5.3-inch, 720p display and a 1.5 GHz, octa-core Snapdragon 425 processor with 2 GB of RAM and 16 GB of storage. The phone features an 8-megapixel main camera and a 5-megapixel front camera. The selfie camera can capture bokeh-style shots. LG said the phone has new Low Light Noise functionality that improve low-light photography. Other features include a 3,000mAh battery, fingerprint reader, NFC, LTE, GPS, Bluetooth 4.2, WiFi, FM radio, microUSB, and Android 8.1 Oreo. AT&T Prepaid sells the LG Phoenix Plus for $130.
07/16/2018 01:15 PM
Apple to Bring More Emoji to iPhone Later This Year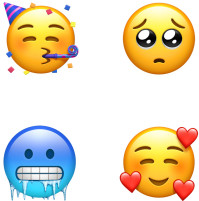 Apple today committed to adopting more than 70 new emoji. The Unicode Consortium announced Unicode 11, which includes dozens of new emoji, in February and made the final version available in June. Apple says new emoji characters will soon grace the iPhone, iPad, Apple Watch, and Mac. Unicode 11 brings new representation for emoji with options for red hair, gray hair, curly hair, and no hair, as well as more food, animals, sports, and other items. Apple didn't specifically say Unicode 11 will be added to iOS 12, but that is the route Apple is most likely to pursue. iOS 12 is already in beta testing and will be distributed to iOS devices in September or October.
07/16/2018 10:07 AM
Huawei Says GPU Turbo Update to Boost Mate 10 Pro, P20 Pro Performance
Huawei today announced plans to tweak the graphics performance of its phones. The company will update a number of devices with what it calls GPU Turbo, a graphics processing technology that lets phones run GPU-intense apps, such as games, faster and more efficiently. Huawei claims that GPU Turbo optimizes system software and hardware resources to improve GPU efficiency by 60% while lowering power consumption by 30% thanks to its re-architected method for handling graphics. The end result is a noticeable upgrade in device performance without forcing users to buy a new phone in order to run the latest games and apps. Huawei plans to roll the update out to its flagship devices, the Mate 10, Mate 10 Pro, P20, and P20 Pro in August, with other devices to follow later in the year.
07/13/2018 01:02 PM
ZTE Allowed to Return to Business
The U.S. Commerce Department has lifted its ban on U.S. companies doing business with Chinese phone and telecom equipment maker ZTE. The company can now resume operations, after all but shutting down since April due to the ban. The company is highly dependent on U.S. companies, including Qualcomm and Google, for its smartphone chips and software. The deal to lift the ban was done at the instruction of President Trump, and includes a $1 billion fine and a complete change of ZTE leadership. Today's action marks the end of a years-long saga that started when ZTE was caught selling equipment to North Korea and Iran in violation of a U.S. embargo.
07/13/2018 10:12 AM
FCC Chair Outlines 5G Auction Plan
FCC Chairman Ajit Pai this week announced his plan for auctioning off five specific swaths of millimeter-wave spectrum for 5G services. While industry leaders have been calling for one auction process, Pai is proposing three auctions between November and the end of 2019. The auction for the 28 GHz band would start November 14th, with the 24GHz auction to follow "immediately afterward". A unified auction for the 37 GHz, 39 GHz, and 47 GHz bands would happen in the second half of 2019. The plan also calls for dividing up the 37 GHz, 39 GHz, and 47 GHz bands into uniform 100 MHz license blocks, so they can more easily be auctioned together. A "cleanup" of the 39 GHz band would precede the latter auction. The 39 GHz band is currently used for point-to-point microwave, including wireless backhaul for mobile networks. The plan will be voted on at the FCC's August 2nd meeting.
07/12/2018 11:06 AM
Sony Brings 2:1 Display to its Midrange with Xperia XA2 Plus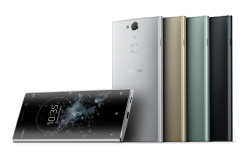 Sony this week announced the Xperia XA2 Plus, a new mid-range phone with a tall 2:1 ratio display, hi-res audio, and 23-megapixel Sony Exmor RS for mobile camera with 4K video capture. The 6-inch display has Full HD+ resolution and is protected by Gorilla Glass 5. It also has a Qualcomm Snapdragon 630 processor, large 3,580 mAh battery, rear fingerprint reader, fast charging, and an 8-megapixel wide-angle front camera. It will be available in Silver, Black, Gold and Green in late August.
07/12/2018 10:26 AM
Sprint Hikes Prices with Revamped Unlimited Plans
Sprint today announced new "Unlimited Plus" and "Unlimited Basic" plans. Unlimited Plus replaces the old Unlimited Freedom plan and raises the price from $60 to $70 per month for the first line. Additional lines are discounted, down to $42 per line for a family of five. Like the old Unlimited Freedom, Unlimited Plus offers HD video streaming and Hulu, however Tidal music streaming is now included, and the mobile hotspot allowance has increased from 10 GB to 15 GB. A limited-time offer slashes the price of Unlimited Plus by $20 per line if customers bring their own phone or buy one at full price, instead of leasing a phone from Sprint. That works out to $50/month for one line, or as little as $22/line for five lines. A new Unlimited Basic plan costs the same as the old Unlimited Freedom plan, but offers less. Video streaming is limited to SD resolution, music streaming is limited to to 500kbps, and mobile hotspot data is throttled after 0.5 GB. Unlimited Basic includes Hulu, but not Tidal. Unlimited Basic runs $60/month for the first line. Additional-line discounts bring the price per line down to $32/month for a family of five. There is no discount for using a non-leased phone, meaning Unlimited Plus is temporarily $10/line cheaper than Unlimited Basic with a non-leased phone. The new plans will be available starting tomorrow, July 13th.
07/10/2018 12:24 PM
Google Pay Gains Ticketing, Friend Payments
Google today released a major update to the Google Pay app and service. Google Pay now supports one-time tickets with QR codes, such as airline boarding passes and concert tickets. In the app, they appear in a new "Passes" tab, along with loyalty and gift cards. The Google Pay app also now lets you send money to friends, a feature that was previously available only with a separate Google Pay send app. Now that Google Pay Send is combined with Google Pay, the new unified app also supports bill splitting. You can tap on any recent payment and a "Split the cost" button lets you request money from up to five people. An iOS version of Google Pay supports these friend payments. Google also revamped the Google Pay web site.
07/10/2018 08:56 AM
Update to iOS 11 Aims to Prevent Hacking via USB
Apple has released iOS 11.4.1, which improves stability and the Find My AirPods feature. It also introduces USB Restricted Mode, a feature designed to prevent a third party from attempting unauthorized access to a locked iPhone via the Lightning port and USB. When the phone has been locked for a full hour, all USB access is disabled. However, security researchers at ElcomSoft have discovered that attaching any USB device to the iPhone will reset this 1-hour clock, providing a an easy workaround for any third party that comes into possession of the phone within an hour of its last use. A new toggle in the settings lets users disable this security feature.
07/09/2018 09:43 AM
Vivo Launches All-Screen NEX Phone Outside China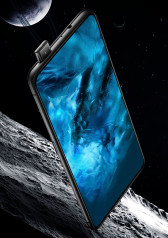 Vivo today announced that its all-screen NEX flagship phone will be launching this month in Russia, India, Malaysia, Hong Kong and Taiwan, making it available in the global unlocked market. The international model supports LTE bands 2/4/5/12/25/26/41, meaning basic support for AT&T and T-Mobile networks, as well as full support for the CDMA and LTE bands used by Sprint. The NEX has a truly all-screen design. To avoid employing a notch, the speaker and fingerprint reader are both built into the screen, and the 8-megapixel selfie camera slides up from the top of the phone when in use. The AMOLED screen measures 6.59 inches and has FHD+ (2316x1080) resolution. The premium model is powered by a top-end Qualcomm Snapdragon 845 processor paired with 8 GB of RAM. The battery is large at 4,000 mAh. The 12-megapixel main camera features 4-axis optical stabilization and a secondary 5-megapixel sensor. It's available with either 128 or 256 GB of internal storage. A cheaper NEX model has the same all-screen design, but a standard fingerprint reader on the back, a Qualcomm 710 processor, 6 GB of RAM, and no support for Sprint bands.
07/06/2018 09:36 AM
ZTE Makes Progress Toward Resuming Business
ZTE has now replaced four of its top leaders (CEO, CFO, CTO, and head of HR) and its entire board of directors, as required by a tentative deal with the U.S. government. The company has also agreed to pay a $1 billion fine. With these steps complete, the U.S. Commerce Dept. may soon lift the sales ban that has forced the company to suspend all operations since April. In the meantime, the government has granted ZTE a one-month waiver allowing it to resume providing support for its products for the month of July. While ZTE is Chinese company, it is highly dependent on U.S. suppliers -- including Qualcomm and Google -- which is why the Commerce Dept.'s ban on doing business with U.S. companies has effectively shut down the company. The deal to lift the ban was announced last month, and has President Trump's strong support. In Congress, the Senate version of a pending defense-policy bill would override the Commerce Dept. and keep the sales ban in place. The House version of the bill does not contain that language, a difference that remains to be reconciled.
07/03/2018 10:00 AM
Light Working on Phone with Nine Cameras
Light -- the company that currently makes a 16-lens light field camera -- has revealed that it's in the final stages of putting its technology into phones. Current prototype phones have an array of five to nine cameras on the back. The company recently showed working prototypes to The Washington Post. "It says its phone design is capable of capturing 64 megapixel shots, better low-light performance and sophisticated depth effects." Light says a phone using this technology will be announced later this year.
07/03/2018 09:49 AM
HTC Lays off 22%
HTC is laying off 1,500 employees (out of 6,450 worldwide) from its manufacturing division in Taiwan. This comes after the company transferred 2,000 employees to Google in a deal earlier this year, and laid off 2,300 employees in 2015. The company has been struggling to find profitability, and has been losing market share in the mobile space for years.