11/20/2018 04:52 PM
Google's Digital Wellbeing App Graduates Beta, Available to All Pixels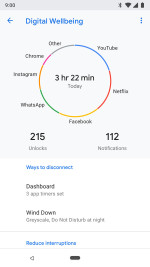 Google today said that its Digital Wellbeing application has reached launch status. The app, which has been in testing on some Pixel phones, is now available from the Google Play Store to all Pixel phones and Android One phones. Digital Wellbeing provides people with a way to track their phone usage over time. For example, people can see how frequently they use different apps, how many notifications they receive, and how often they check their phone. Digital Wellbeing also includes features such as Do Not Disturb to prevent interruptions and Wind Down to help people put their phones down. Digital Wellbeing requires Android 9 Pie.
11/20/2018 11:56 AM
Holiday Gift Guide 2018
The giving season has arrived once again. Over the next few weeks, we'll experience the sights and sounds of celebrations across cultures. Many will also spend time rushing from store to store in search of that perfect gift for family and friends. In an effort to help save you time, Phone Scoop has put together a list of tech-minded gifting suggestions. Whether you're looking for accessories or phones, we've got you covered.
11/20/2018 09:52 AM
OxygenOS Beta 7 for OnePlus 6 Turns On Virtual SIM
OnePlus has released new beta software for the OnePlus 6 phone. OxygenOS Beta 7 includes two core new features, a video enhancer and OnePlus Roaming. The video enhancer improves color when watching video, while OnePlus Roaming acts as a virtual SIM card so travelers can surf the internet without a local SIM card. OnePlus says the roaming tool should work in most countries around the globe and will help users connect. OnePlus Roaming "will list out the plans available for the country/regions you are in so that you can purchase a suitable plan and access the Internet without a SIM," said OnePlus. OnePlus Roaming provides only data access and doesn't include voice service. Other features in the beta build include vibrate notifications when ending calls, user interface improvements for 911 calls, and the ability to assign a specific SIM for a specific contact or group when in dual SIM mode. Last, OxygenOS Beta 7 for the OnePlus 6 includes an option for an app drawer under the launcher settings. OnePlus says those already running beta builds should see the update within a few days.
11/19/2018 01:51 PM
Instagram Slashing Fake Likes and Fake Followers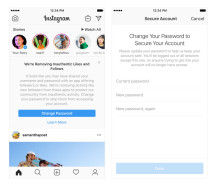 Instagram today said it is taking steps to reduce what it calls "inauthentic activity" across the social network. The company says more accounts have begun to use third-party apps to boost their follower numbers and inflate like counts. The company plans to put a stop to this. "We will begin removing inauthentic likes, follows, and comments from accounts that use third-party apps to boost their popularity," said Instagram. The company is relying on machine learning to discover such accounts and delete fake followers and likes. "This type of behavior is bad for the community," said Instagram and "also makes these accounts less secure." Instagram will alert users who've put such apps to effect that the fake followers and likes have been removed from their account. Instagram will also have these account holders change their password. The social network's new measures will be "ongoing." Moreover, people who continue to use third-party apps to inflate their profiles "may see their Instagram experience impacted." The company plans to take additional measures in the weeks ahead.
11/19/2018 12:37 PM
Google to Nix SMS Notifications for Google Calendar
Google today said that it plans to stop offering SMS-based notifications for Google Calendar. "If you had previously been receiving Calendar notifications via SMS, they'll be replaced with in-app and email notifications," said Google. Google also plans to adjust the Calendar API to reflect this change, meaning developers will have to update their apps if the apps integrate with Google Calendar. Google Calendar's in-app notifications for Android and iOS include banners, badges, and sounds. People who had previously set SMS notifications for new events, changed events, canceled events, or event responses will now see those notifications via email. The change goes into effect January 9, 2019.
11/19/2018 10:49 AM
Google Photos Lets iPhone Owners Adjust Background Blur
The most recent update to the Google Photos app for iOS added a feature to help spruce up portraits. Photos for iOS allows users to adjust the background blur and change the focus of photos taken in portrait mode. These tools have been added to the editing menu of Google Photos, where new sliders appear for making adjustments. The Android version of Google Photos gained the blur adjustment feature earlier this year. Google Photos for iOS is free to download from the iTunes App Store.
11/19/2018 09:42 AM
Sony Xperia XZ2 Premium Gets a Taste of Pie
Sony Mobile today said Android 9 Pie is now available to the Xperia XZ2 Premium. Sony debuted the XZ2 Premium earlier this year. In October, Sony said the XZ2 Premium would receive Pie on November 7. Android 9 Pie includes features such as Adaptive Battery, a new Ambient Display, and Digital Wellbeing for controlling phone use. Sony said owners of the XZ2 Premium can check for the update via the settings menu
11/19/2018 08:13 AM
Instagram Bug Inadvertently Exposed User Passwords
A bug in Instagram's Download Your Data tool left user passwords exposed. "If someone submitted their login information to use the Instagram 'Download Your Data' tool, they were able to see their password information in the URL of the page," said Instagram in a statement provided to The Verge. "This information was not exposed to anyone else, and we have made changes so this no longer happens." Instagram claims the issue was "discovered internally and affected a very small number of people." Instagram has notified those impacted by the breach and warned them to change their passwords as a precaution. Instagram debuted the Download Your Data feature in April as a way for users to keep a backup of all their data.
11/19/2018 07:00 AM
Review: Marshall Kilburn II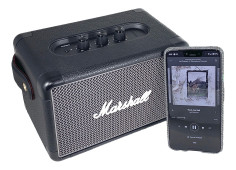 Looking to add a little rock'n'roll to your life? Don't let the throwback vibe of the Kilburn II from Marshall Headphones fool you. This lunch-box-sized, portable Bluetooth speaker packs the latest tech so it can blast your tunes to the max.
11/16/2018 04:58 PM
Verizon Prepping RCS Text Messaging for Early 2019 Launch
Verizon Wireless plans to roll out support for RCS messaging in early 2019, according to Aparna Khurjekar, SVP of consumer products at Verizon. Google has been pushing the RCS standard on carriers for several years. RCS is the next-generation messaging system that was designed by the GSMA to provide media-rich messages, including read receipts, video calls, and group chats, to Android devices around the world. Carriers, however, are the linchpin, as they must support it on the backend. In the U.S., Sprint and T-Mobile announced support for RCS earlier this year, and each is in various stages of deployment. AT&T supports a version of RCS, though not the Universal Profile, which is what makes RCS work across carriers. Verizon hasn't said if it will support the Universal Profile, nor has the company said exactly when it will launch RCS. Verizon already offers a media-rich texting app called Message+ to its customers. It's not clear if Verizon will add RCS to that app, or launch a brand new app.
11/16/2018 10:43 AM
Verizon App Supports Up to 5 Separate Numbers On One Phone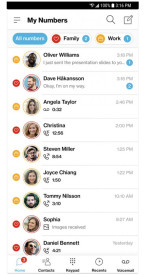 Verizon Wireless today introduced a new application called My Numbers that lets any single phone use up to five distinct numbers. The app is available to Android and iOS devices. Customers who want or need to manage multiple numbers can add them to the app, where each will have its own voicemail inbox and SMS inbox. Each number added to the app costs $15 extra per month. The service uses software to mimic the idea of multiple SIMs in a single phone. My Numbers is available now.
11/16/2018 08:50 AM
Senators Probing Carriers Over Video Throttling Claims
Recently published research suggests the four major wireless carriers are throttling video traffic and three Senate Democrats want to know what's going on. Senators Edward Markey (Mass.), Richard Blumenthal (Conn.), and Ron Wyden (Ore.) sent letters to AT&T, Sprint, T-Mobile, and Verizon Wireless about the allegations with a demand for a formal explanation from each. "All online traffic should be treated equally, and internet service providers should not discriminate against particular content or applications for competitive advantage purposes or otherwise," said the senators in their letter. The Wehe testing platform showed that AT&T throttled NBC Sports, Netflix, and YouTube; Sprint throttled Amazon Prime, Netflix, Skype Video calls, and YouTube; T-Mobile throttled Amazon Prime, NBC Sports, and Netflix; and Verizon Wireless throttled Amazon Prime, Netflix, and YouTube. T-Mobile also engaged in boosting, which provides unthrottled video streaming for a short time before eventually throttling it. Carriers' usage policies may allow for some throttling or down-graded resolution, and, due to the loss of net neutrality protections, current law does not explicitly prohibit throttling. However, the law does say that carriers have to disclose their throttling policies, if any exist. In this case, it's not clear if any of the carriers have specifically stated that they'll throttle the aforementioned apps and services. AT&T disputed the research and Sprint told Ars Technica that it does not "impose any restrictions on VoIP traffic or VoIP services." The carriers have until December 6 to answer the senators' questions.
11/16/2018 08:16 AM
T-Mobile Suggests Sprint Merger May Wrap Up In Early 2019
T-Mobile CFO J. Braxton Carter believes the company's planned deal with Sprint could close during the first quarter of 2019. The proposed merger is still being weighed by the FCC and Department of Justice. "The only remaining thing that is happening is depositions with the DoJ, which have started and will be completed in a few weeks," said Carter at a technology conference. The two companies proposed the merger in April and initially expected it to close during the first half of 2019. A key facet of the deal is 5G. Carter says the merger is needed for the two companies to compete with market leaders AT&T and Verizon. "The combined assets of Sprint and T-Mobile can create 8 times the 5G capacity that either of us could do on a standalone basis and 15 times the speed," noted Carter. If the government allows the merger to move forward, the U.S. will drop from four national carriers to three. Some say this will reduce competition, which could lead to higher prices for consumers. Neither the FCC nor the DOJ has made any official statements on the deal.
11/15/2018 03:25 PM
Google Wear OS 'H Update' Further Tackles Battery Life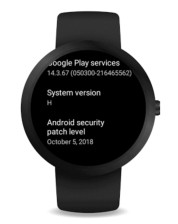 Google today revealed that a small system update will reach Wear OS-based devices over the next few months. Wear OS Version H focuses on fine-tuning battery performance. For example, an update to battery saver mode will force the watch to only display the time once the battery reaches 10%. After 30 minutes of inactivity when a smartwatch isn't being worn, Wear OS watches will automatically go into a deep sleep mode to conserve power. Google says Wear OS watches should be easier to turn off thanks to a new, two-step power down routine. Last, Google is extending Smart App Resume to all apps. This will let watch wearers pick up where they left off across all apps on their watch. Google says Wear OS Version H may take several months to reach all devices.
11/15/2018 02:32 PM
Verizon Prepaid Debuts the Orbic Wonder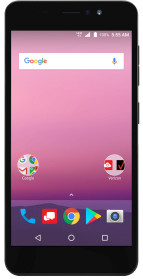 Verizon Wireless' prepaid unit today added the Orbic Wonder to its lineup of inexpensive phones. The Wonder features a 5.5-inch full HD screen that is protected by Asahi Glass. The phone is power by the Snapdragon 430 processor with 2 GB of memory and 16 GB of storage. It supports microSD memory cards up to 256 GB. The main camera has an 8-megapixel sensor with flash. Verizon did not list the user-facing camera's specs. The phone has an embedded 3,000mAh battery. The Orbic Wonder, made by Reliance Communications, costs $99.99 and is available online.
11/15/2018 02:07 PM
AT&T's Secure Family App to Replace Smart Limits for Managing Family Phones
AT&T plans to cease offering AT&T Smart Limits, a service that allows parents to control their kids' phones, on November 26. Smart Limits will no longer be available after that date. In its place, AT&T is launching AT&T Secure Family. The new app and service has more features, a simpler user interface, and lets parents manage more phones at a lower price. AT&T Secure Family includes live location tracking and detailed location history for each family member. Parents can set up arrival and departure alerts, such as when kids leave school or arrive home. Parents can also schedule location updates that are sent automatically throughout the day. Secure Family includes content and usage controls. Parents can pause access to the internet, such as at bedtime, filter and block apps and online content based on age, set time limits for kids' daily internet access, and prevent kids from making purchases on the iTunes App Store or Google Play Store. AT&T Secure Family is available to iPhone and Android devices and costs $7.99 per month to manage up to 10 lines.
11/15/2018 01:46 PM
SIM-Free iPhone Xr Now Available from Apple
Apple has made the SIM-free variant of the iPhone Xr available from its web site. The phone ships unlocked and without service from any wireless carrier. People who buy the phone will need to use an existing SIM card or purchase one separately. The SIM-free iPhone Xr is compatible with most U.S. networks. Pricing starts at $749, which is the same as the carrier versions.
11/15/2018 01:35 PM
Instagram Ramps Up Shopping Tools Ahead of Holidays
Instagram has integrated shopping deeper into its mobile app. The latest version of Instagram, which people use to share photos and videos, adds a shopping collection, or a way for people to save potential purchase items for later. People can return to the items they've saved via their profile. The company is testing a redesign of the Shop tab that appears on business profiles. The idea is to let people quickly see all the products from that retailer as they appear in Instagram posts/stories. Instagram says this is a good way to browse all the products from a single company at once. Last, Instagram has made it possible for people to shop from feed videos. A new shopping icon will appear in the bottom left corner of videos that contain products. Tapping the icon will open a page with details about that specific product. The new version of Instagram will reach Android and iOS devices over the next few days.
11/15/2018 11:34 AM
FCC to Let US Phones Access Galileo for Improved Positioning
The FCC today cleared the way for U.S. consumers and businesses to use the European Union's Global Navigation Satellite System (GNSS), known as Galileo. Galileo is available globally. Today's action means devices in the U.S. now have permission to access select Galileo signals to improve location accuracy. Devices that gather information from both Galileo and the U.S. GPS system will improve the availability, reliability, and resiliency of positioning, navigation, and timing services across the country. The Order approved access to two Galileo frequencies, E1 (1559-1591 MHz) and E5 (1164-1219 MHz), both of which fall in the Radionavigation Satellite Service (RNSS) frequency bands. Many of today's smartphones already include support for GNSS/Galileo. It's not clear how quickly the Order will go into effect, nor is it clear if U.S. consumers will need to install new software or perform some other action to access the EU's satellites.
11/15/2018 10:03 AM
Kyocera's DuraForce Pro 2 Brings Rugged Performance to Verizon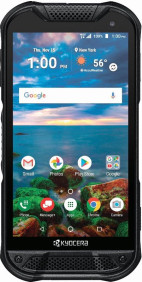 Kyocera and Verizon Wireless today announced the DuraForce Pro 2, a ruggedized smartphone that targets construction and public safety workers. The DuraForce Pro 2 is fully ruggedized thanks to its hard rubber exterior, meeting the mil-spec 810G rating. It can withstand drops, shock, vibration, radiation, temperature extremes, blowing sleet/rain, and high elevations. An IP68 rating means the DuraForce Pro 2 can handle submersion in up to 5 feet of water for up to 30 minutes. Kyocera says the DuraForce Pro 2 can be used around harmful vapors without fear of sparking a fire. The phone features a 5-inch full HD display that's protected by Kyocera's Sapphire Shield, which is scratch proof. It is powered by a Snapdragon 630 processor with 4 GB of memory and 64 GB of storage. It supports microSD memory cards up to 512 GB. The DuraForce Pro 2 has powerful front speakers that produce 106dB of sound. Four noise-cancelling mics ensure that PTT calls, speakerphone calls, music, and other audio is loud and clear. The main camera has a 13-megapixel sensor and features such as wide 135-degree field of view, underwater mode, slow motion, time lapse, and automatic scene detection. The phone also has a 5-megapixel front camera. Programmable keys let users launch select apps, such as PTT or the camera, at the press of a button. The phone has a 3,240mAh battery that supports rapid charging and wireless charging. A fingerprint reader is built into the power button on the side. The Kyocera DuraForce Pro 2 costs $444, or $18.50 for 24 months. It is only available online.